Start lists for all DANISH SPRING Chase& Relay races are ready. Please carefuly read the Instruction / Bulletin 2 – especially noticing page 2-3 on the Arena-layout and race format with split and very close set controls and map turnover/change. Not signed up yet? Buy your start number at the event information desk (see details on the last page of the instruction).
Runners being selected for GPS Tracking will be announced with the start lists posted on the Arena. GPS units must be picked up at the event information desk.
Approx 4 cm light snow entered the competition area Wednesday (click here to see a few pictures). The landscape is beautiful and orienteering gets more challenging in many areas. On the bare ground it forms no challenge, but watch out on the frozen ditches and marshes and also on icy parts of the forest roads. Cold and clear weather is forecasted and we will strive to make it a bit cosy in the Circus-tent comprising the Event information, cafeteria and SSport's booth.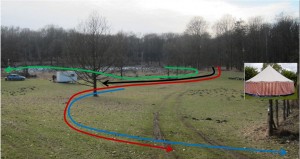 DANISH SPRING 2013 will probably the most spectator friendly World Ranking Event ever? The WRE classes start on the Arena, pass 3 times and finish within half an hour! Follow the race on the Arena, from the "Spectator hill", via RadiO, commentators and TracTrac. Or follow us on DS Live here on the web. During the races even a video production will be created.
We wish you all an exiting weekend!