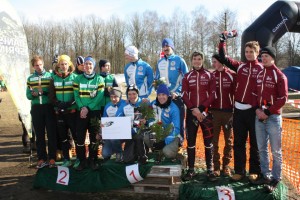 The intense 24 hours are now history and your focus is already at the next events – probably including the great relays 10Mila, Jukola and maybe the new NightHawk in Norway. Congratulations to OK Pan Århus and Lillomarka OL for their overall victories in the Relay. And to Anastasia Tikhonova, MS Parma and Nicholas Oskarssson, Lillomarka OL for the WRE victories. Congratulations too to all other prize winners of nice DS singlets or T-shirts in the Chase, compression socks and lots of nice extra stuff from SSport. SSport is a professional provider of running brands and event equipment (fences, portals, banners, signs etc.) and organise running events too.
The overall Relay results are here and you find it all on the Results page. Communication of online and final results, the map turnover-solution and also waiting for the Relay prize ceremony was not optimal. But live GPS tracking and facebook worked out well. And most important the course setters had done a great job!  Reenjoy at TracTrac REPLAY and e.g. at 3DRerun. Also nice stuff on the facebook feeds (for non-facebookers too), photo gallery and more.  The list of Lost property will follow.
Thanks to everybody for your enthusiasm – making the event much larger than the number of entries! We enjoyed having you here!
Gunner Sie, event director DANISH SPRING 2013